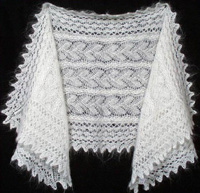 The first mentions about Orenburg shawls date as far as 17th century. Russians that settled in Ural Mountain area felt necessity in warm clothing made of goat down to stand severe winters. The famous Orenburg woven shawls are made entirely by hand. They are handspun and hand knitted from the finest down of goats in the region of Orenburg near Ural Mountains.
The shawls have natural colors of the goats and can be white, gray or brown. Prices depend on size, on quality of threads used for making of the shawls and, of course, on quality of work. Each woman makes her own shawls with her own lacy ornaments and patterns of the shawl. The softer and finer the fiber is, the more valuable is the shawl. In Russia with cold and long winters women used to wear these shawl everyday especially in country area. Each woman has at least two shawls - one for everyday usage and other one for holidays. Shawls used for everyday often are plied with silk for strength so that they can withstand daily use.
Many people ask what kind of material (wool) is used for knitting of the Orenburg shawls. Authentic Orenburg shawls are made of goat down. Sometimes people by mistake call the down "cashmere" but this is not exactly so. People in Orenburg area breed species of goats that give not only milk but perfect soft and light down. These goats are quite fastidious for food and for conditions of living. Once during a year a goat bears one goat baby, seldom 2 or even 3. In the beginning of winter when down gets enough long and with enough quality women comb goats. This is hard work as it down fibers should be comb separately. In average one goat brings about 2 LB of down. Then the down is washed, is sorted and later is spun for further knotting.
Goat down shawls are durable in usage, the more shawl is used the more attractive it is. Of course, it is necessary to follow some simple rules that help to keep a shawl in good condition. It is advised to use dry cleaning. At a pinch it can be washed in not hot water using washing powder for wool. Do not twist a shawl and dry on horizontal surface out of heating devices. This simple rules will make your Orenburg shawl a real family member.
Select what would you like to know about our products