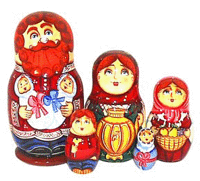 The Matryoshka, or Russian nesting doll, is one of the most popular and endearing examples of Russian folk art. Fashioned entirely of natural products, each doll is hand painted and therefore completely unique.
The attention to detail and creative skill of the Matryoshka artists will amaze you. Dolls can range in size from large, 15" masterpieces, containing 20 or more successively smaller versions within, to tiny creations that require a magnifying glass to paint them.
The origins of the Matryoshka doll are unclear. It is believed that they first appeared some 100 years ago and were modeled after a wooden doll brought to Russia from the island of Honshu in Japan. Interestingly, the Japanese claim their dolls were inspired by the work of a Russian monk. This monk created a wooden figure depicting a good-natured, bald old man thought to represent a Buddhist sage. This first prototype still exists and can be seen in the Museum of Toys in Sergiev Posad, Russia.
In Russian, the word Matryoshka is associated with fertility and motherhood. It's not surprising then that many of the first Matryoshka dolls utilized the image of a portly, chubby cheeked mother on the outside doll with the likenesses of her numerous children painted on the smaller, inner dolls. Even today, when artists are painting a variety of subjects, the image of the robust and cheerful mother is still one of the most popular.
The reputation for exquisite craftsmanship that the Russian Matryoshka doll enjoys today is due in no small part to A.I. Mamontov. Mamontov was a true patron of Russian art. A print shop owner and publisher, he was so taken by the work of Matryoshka artists that he set up a studio where they could practice and perfect their art. Known as the "Children's Education Workshop", Mamontov's studio employed some of Russia's finest toy makers and painters, and is credited with developing what is known as the "Russian-style Matryoshka".
In today's world of mass-produced products, it's easy to see why Matryoshka dolls are so popular. To hold one in your hands, admire its exquisite workmanship and feel the anticipation and thrill of discovering smaller and smaller dolls hidden one inside the other, is like nothing else you've ever experienced. When you own a Russian Matryoshka, you own not only a piece of Russian history, but a bit of its childlike wonder and magic as well.
These exceptional HAND PAINTED Nesting Dolls are created out of birch wood in Russia. The larger figure opens up to fit the smaller one inside it. It takes a lot of time to make these dolls. The tree was cut in the spring, stripped of its bark leaving a few rings to prevent the wood from cracking when dried. The logs are dried and kept in the open for several years. They are then cut in smaller pieces. All the operations do not involve any measurement and rely on intuition and require great skill. After the turning work on a lathe is done the dolls are cleaned, primed with starchy glue to make its surface smooth, polished and now are ready for painting. After having been hand-painted they are dried for several days. Then the dolls are ready for the lacquer to be applied. Many different coats are needed to give the doll the brilliant shine. The dolls are covered with 6 or 7 layers of lacquer.
Select what would you like to know about our products