Making Boxes
Because Russian lacquer boxes are entirely
handcrafted and therefore completely unique, one box can take weeks, even months to produce. Just a simple box takes 4 to 6 weeks to prepare before the artist can begin to paint. There are 3 types of materials currently being used to make the box itself.
The strongest, most versatile and least likely to expand or crack with age is papier-mache. It is also the most costly and time consuming to produce. The "chewed paper" used to create papier-mache is created by grinding up old paper (nowadays old Russian currency is often used) and mixing it with linseed oil. This mixture is then poured and pressed into a mold and heated in ovens. The resulting material is hard as wood, light and waterproof, and can be sawed, polished, primed and lacquered.
The second material is wood. It is harvested from the lime and birch tree forests growing outside the villages and is used to make round boxes. The newly cut wood is stored under houses for months in order to allow it to dry. This slow drying process ensures that the wood will not expand or crack once it has been made into a box. Only the best dried wood, which has passed inspection by a master craftsman, is used. It is shaped using a lathe into perfectly round boxes and lids, but no two are ever exactly the same.
The third material used in boxes is orgalite, a form of fiberboard. Machine cut into very thin sheets that are then glued together, it results in exceptionally strong boxes, but is best suited for use in square or rectangular shapes.
Painting
Before a painter can begin to work on a box, its surface must be prepared.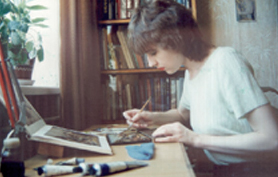 This is a lengthy, labor-intensive process involving 14 or more coats of primer and lacquer with drying, cleaning and polishing after each application.
Russian miniature painters are renowned for the breadth of their subject matter, mastery of techniques and intricate detail found in their work. Like all art forms, miniature painting has been shaped by the life and times of the artists themselves. Different parts of the country have also lent their particular styles, focuses and specializations to the art, thereby carving niches for themselves in the history of their craft.
Miniature painting is a painstaking process of rendering a subject in miniature form, using the finest of brushes. Whether it is a portrait of a peasant woman dancing or a lush forest meadow, the artist strives to capture the living essence of the subject by recording every little detail about it. Often this requires the use of large, high intensity magnifying lamps and brushes so fine itís difficult to see the fibers. Obviously this kind of work requires a great deal of concentration, which can only be maintained for short periods of time. To be done correctly, miniature painting also requires that an artist spend years learning and perfecting the techniques involved.
Until very recently, this meant applying to schools located in only one of four parts of the country. Each school specialized in a particular style of painting. Ten to fifteen times more applicants used to apply to these schools than could be accepted. Fortunately, since the reform and break up of the Soviet system, young artists have much more freedom. As a result many of them have chosen to leave the state operated establishments, where they were required to work under strict guidelines in order to earn a living, and return to their homes around the country. There they continue to produce beautiful work, but for the first time we are seeing individual expressions rather than mass-produced styles in conjunction with masterful technique.
Select what would you like to know about our products